Fun, Unique and Effective Workouts
Keep your members excited and engaged by tracking the metrics that matter to them.

Request Early Access
Access to the Closed Beta is by invitation only. Requests accepted until September 30th 2017.
Differentiate your gym from the competition by creating one of the best member retention programs there is. Hykso's Punch Trackers are the ideal fitness trackers.
---
---
Our technology seamlessly integrates with any standard screen/monitor to create an immersive, next-gen fitness experience.
---
A fitness tracker designed to tracker what really matters.
---
Volume of Punches

Punch Speed

Intensity Score

Punch Categories (Right Straight/Left Straight/Left Power/Right Power)
Click here to learn more about the Hykso Boxing Sensors in general.
Unique Gym Experience
---
Know Your Members Better

Hykso Gym tracks all the training sessions of your members so they can look back at the time they started, slacked, or pushed their boundaries the same way a professional athlete does it.

Take Motivation to a Whole New Level

Host a gym-specific leaderboard that highlights your hardest working members.

Not into the competitive vibe for your gym? Data from the fitness trackers can be used for benchmark purposes only. Keep your members' data private and use it internally to better motivate them and set attainable goals.

Enhanced Social Experience

The Hykso platform lets you build an internal social network. Members can share their workout data, compare with friends and motivate each other to push beyond their limits.
---
"It made me push myself way harder!"Monica Rodriguez, UFC Gym member
---
Create a solid relationship with your members that goes beyond your gym's walls
---
Gamify & Rewards

Incentivize your new members using the Hysko Score system and reward them after 30, 60 and 90 days. Gamification in this early stage helps drive long term exercise adherence.

Engage with your Members

Share great training content, gym updates or discounts via the Hykso network to engage with your members before, during and after they enter your gym.

Automated Custom Reports

By using Hykso as a fitness tracker, you can send at the end of each month a summary of all completed workouts that highlights their achievements with relevant content to help prepare them for the next month.
"It's a really good way to see at what level you are at so that you can push yourself to get better!"Shah Erfanian, Coach & MMA Fighter
Enhance training and coaching so your members get better results
---
Instant Advanced Feedback

Using Hykso's live data display trainers can instantly view and comment on their clients workouts making sure they achieve their fitness goals.

More Specific Information for Better Private Sessions

Coaches can pull reports on their clients in the management portal. Understanding members behavior provides coaches with the knowledge necessary to book more private training sessions.

Fine Tune your Training Programs

The data provided by Hykso's technology will allow coaches to present members with concrete facts where it's not always easy to show clear progression. Coaches will also know much faster what works and what doesn't with each of their clients. Building personalized training programs increases the likelihood of clients extending their membership.
---
How it Works
---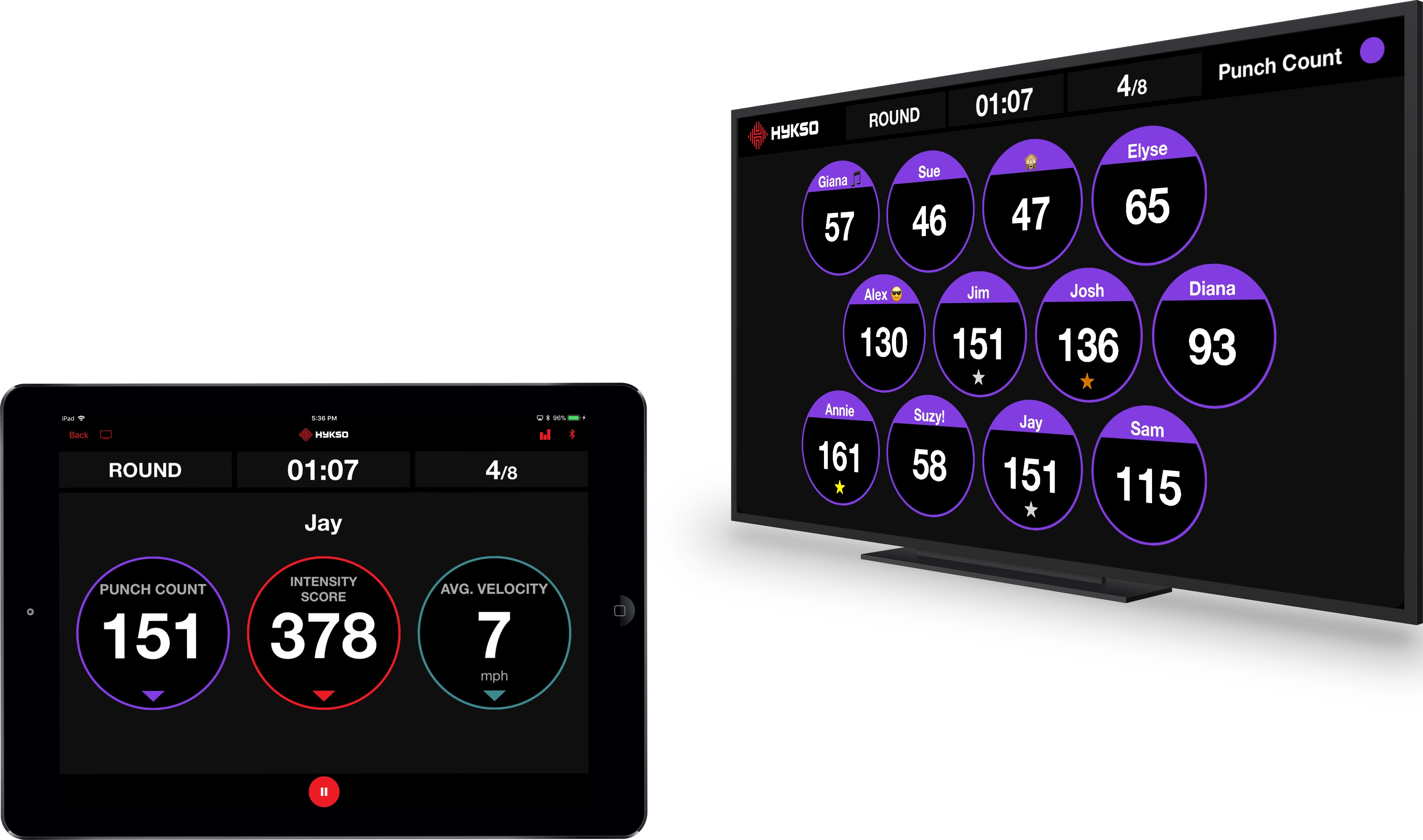 ---
Simple Installation

The Hykso Gym system only requires an iPad or an iPhone to communicate with the Hykso Sensors and an internet connection to upload the data of every users to their respective account.

Mobile Device

All Hykso Sensors connect to a single tablet. Activity output from the whole class can be viewed on a single screen. Replicate your screen to a TV monitor with a single touch.
TV Monitor

To be used with an external display, an HDMI adapter or an AppleTV is required.
The Ultimate Differentiator
---
Request Early Access
---
Ready to immerse your gym in the Hykso experience? Request early access now!